Shopping Cart
Your Cart is Empty
There was an error with PayPal
Click here to try again
Thank you for your business!
You should be receiving an order confirmation from Paypal shortly.
Exit Shopping Cart
| | |
| --- | --- |
| Posted on June 28, 2021 at 5:04 PM | |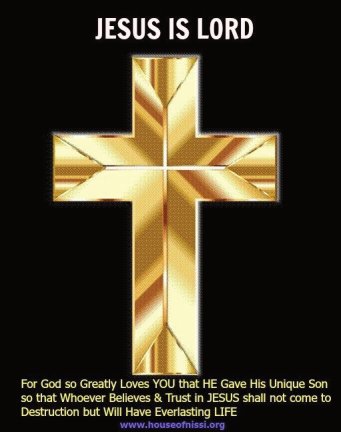 God loves you so much that He sent His only begotten Son Jesus to earth to suffer at the hands of His creation (humans) in order to reconcile you to Himself.  
The Body and Blood of Jesus was a payment for the treason that was committed in the Garden of Eden when Adam listen to the Serpent (Satan) and disobeyed God.  This caused a separation, a divide between God and humanity (humans).  God communicated freely with Adam and Eve in the Garden, there was a relationship between them.  God knew that there was trouble in the garden that could harm Adam and Eve so He warned them by telling them that if they stayed away from the tree of the knowledge of good and evil, they would be safe.  Instead they both listened to the serpent Satan and disobeyed God and the consequences were devastating.  They loss their comfortable environment (perfect climate, provision in abundance, protection and comfort).
Adam and Eve had to work hard to survive and suffered pain as a part of the curse.  The curse is nothing more than a separation from God.  The Bible tells us that in God's presence there is fullness of joy.  God is everywhere but everyone does not receive and welcome Him.  The more humanity moves away from God, denying His power, the more Satan can wreak havoc in the world.
God who has many names because one name cannot describe His infinite power and ability becomes our Father when we accept His Son Jesus as the sacrifice to reconcile us back to God.  The reconciliation occurs when we confess by saying and believing that Jesus is Lord and died for our sins.  When we make that confession, the Holy Spirit comes to live on the inside of us.  All of this occurs by faith and belief.  Do you believe Jesus is Lord and died for your sins so you could be a child of God the Father?  How does God see us and recognize us as His own?  God sees His Spirit in us when we are born-again.  The Bible tells us that God's Spirit in us is a Light that God sees when He looks at us.  People (humans) can't see the Light in us.  Humans can only measure us by the fruit we produce (works).  You can produce good works and still not have the Light of God in you.  Your good works does not matter to God when it comes down to receiving you as His own.  God will recognize you by the Light (Holy Spirit) that resides in you by your acceptance of His Son's sacrifice.
When you get born-again, God assigns angels to watch over you.  I recently had a vision that the pacific side of the ocean was boiling and steam was coming up from the water.  I know that ocean creatures would not survive a boiling hot ocean.  I still don't know what that vision means but I'm not afraid because as a child of God, I know He takes care of and protects His children in the time of trouble.  That is why I constantly witness to anyone who will listen to make Jesus the Lord of their lives and receive the Holy Spirit.  When God looks down from heaven, He recognizes His Spirit.  When you have God's Spirit in you, you can have a relationship with God.
The world is on a slippery slop downward.  We are living in a time when society wants to try to make wrong right and deny God's Word as truth.  The Bible tells us that God's Word will stand forever and is the same yesterday, today and forever.  
If you have been led to this blog and read this message I believe it is not by coincident that you came across this blog but that you were led by God.  There is a remnant of people who are standing with the Lord Jesus and will not be moved by the changing world and the world's philosophy and unrighteous ways.  I hope that you are a part of the remnant of believers who knows beyond a shadow of doubt that Jesus is Lord and that He died for our sins so that we can be reconciled unto God and be dwelling places for the Holy Spirit to live.
Please feel free to leave your comments.  I do read the comments and see that some want to include my blog to their rss but I am not that technologically savvy to assist you but hope that you can figure it out.
Remember no matter what you have gone through in the past, God Loves you and would love for you to be a part of His family of believers if you are not already a member of God's family.  Stay strong and faithful.  God Bless You!!!!
Categories: None
/